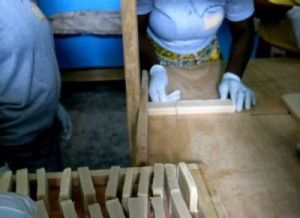 Our social enterprise project is aimed primarily at women; born of a request from the community of the village of Dinderesso.
Here we produce, with local raw materials, quality cosmetic products, natural, with zero environmental impact.

The current production consists mainly of soap made from shea butter.The sale takes place both on the local market and on the Italian one (the product, 100% natural, is certified by the Burkinabé Ministry of Health and registered for import into the EU).

Our goal is to generate sufficient common wealth to develop basic social services that are almost non-existent today and to improve the quality of life of the whole territory.
Why social enterprise

problem : Poor cosmetic products on the African market that are often harmful to health

Possibility: Use local resources in processing high-quality cosmetics products

problem: Poor literacy, high unemployment

possibility: training and development

problem: pollution and total lack of waste disposal service system

possibility: sensitization, defense of the ecosystem, recycling.
(the pragmatic vision in addition to the values that makes us move)